Gasshuku in Iceland May 2003

This was a trip to remember, because it not only was the 30th anniversary of the karate club of Reykjavik, but also the first time that Higaonna Sensei had visited Iceland. I must say that he was very excited about this trip and asked lots of questions about the country. On arriving in Iceland we were met by one of the members of the club and quickly made our way to the hotel.
On retiring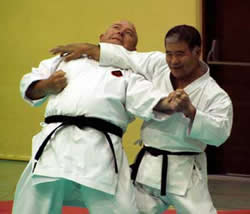 to bed I thought I'd get a good nights sleep, was I wrong. It was still light and you could hear a pin drop, and because I'm used to hearing police sirens day and night in London, I felt like I'd gone deaf. The next morning after breakfast we made our way to the sports centre, Iceland has some of the best sports facilities I've seen in any country. On entering the Sports Centre Higaonna Sensei was greeted by Mr.Hitoshi Abe the Mission Chief of the Japanese Embassy in Iceland, and his assistant Miss Mikiko Kogashi. The acting President of the sport and Olympic Federation, Mrs. Sigridur Jonsdottir was also in attendance, she presented us with some gifts and had warm and kind words for the work that has been done over the last 13 years to help develop young people in the martial arts.
The schedule for the duration of our stay would be children first for one hour, then IOGKF members for two hours, then all styles for two hours. During the warm up Mr.Hitoshi, and Mrs.Jonsdottir joined in the exercise, it was great to see to people that enjoy sport. Everybody was so impressed with Sensei Higaonna, and his attitude towards karate-do. People were coming up to me thanking me for the opportunity to train and meet such a dedicated practitioner of the art.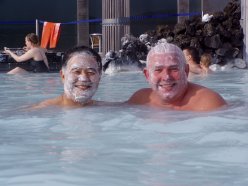 I'm glad to say that the trip was not all about karate training for Sensei. We did manage to find time to visit the wonderful Blue Lagoon which is about 45 minutes drive from the centre of Reykjavik. The water here is geothermally warmed and there are many outdoor 'hot tubs' that one can completely relax in, especially after training with Higaonna Sensei. Sensei Higaonna commented that in Japan there are also many 'Onsen' (Hot baths), which as a young man he went to, so this was a good time for him to reminisce and relax. The water is pale blue in colour and pleasantly warm to the body. The minerals in the water are said to be good for all sorts of ailments of the skin, so we both endeavoured to cover our faces in the grey clay that rests on the bottom of the lagoon, not that we need it because we are both so beautiful as you can see in the photo.
After the training had concluded, everyone applauded and showed their appreciation, then Higaonna Sensei said how happy he was to be in Iceland, and spoke about the 'Values of Life'. He thanked the organising committee for such a wonderful time, and looked forward to 2005 when he will return to Iceland once again.
Sensei George Andrews
Tekið af heimasíðu OTGKA: www.otgka.co.uk